MORE INTERESTING THAN YOU THINK!  These documents we've just turned over to the county are a lot more interesting than people imagine! Think of them like a Sci-Fi for Ventura County set around  2030 when whatever the County decides to do now will be coming to maturity. If you see the year 2030 differently, now is the time to write that vision down and email it to Clerk of the Board <[email protected]>. For distribution to the Supervisors. Subject line: vc2040 on (your passion) so they can consider your ideas on August 6.
These Policy and Program Recommendations to the Ventura County Planning Commissioners for the "General Plan Update" will be discussed at a third work session on June 20, 8:30 to 4, County Administration first floor, 800 Victoria, Ventura.  Discussions are about the county's priorities until 2040 (this week's focus on ag, water and the economy).  Learn about the process at vc2040.org.  Link to watch the Planning Commission meetings on this page: https://vcrma.org/planning-commission-hearings-live-broadcasts-and-video-archive
Documents we submitted:
Economic Vitality to be discussed on Thurs 6/20  350 VC Climate Hub EconVit comments June 19 2019 FINAL
Water Resources to be discussed on Thurs 6/20 350 VC Climate Hub WATER comments June 18 2019 FINAL
Agriculture to be discussed on Thurs 6/20 350 VC Climate Hub AG Comments June 17 2019 FINAL
Hazards and Safety was discussed on 6/13 350 VC Climate Hub HAZ comments GenPlan June 12 2019 FINAL
Conservation and Open Space was discussed on 6/13 350 VC Climate Hub COS GenPlan June 11 2019
Public Facilities, Services and Infrastructure was discussed on 6/13  350 VC Climate Hub PFS GenPlan Comments June 12 2019
Circulation, Transportation, Mobility and Land Use was discussed on 6/6  350 Submission to Planning Commission on LU & CTM
20 YEAR OPPORTUNITY TO BUILD POLITICAL WILL AT THE COUNTY AND TO THE CITIES: The current General Plan is over 25 years old . All aspects of the update intersect with climate. That is where we focused our input along with equity and the housing crisis. Our recommendations are extensive but not complete; some are revolutionary. Many solutions are new or strange to the general public, so we need to communicate our restorative visionary proposals — some are already happening and  many more can only happen through building political will and showing how they are smart investments. It is easy to build our movement by sharing the link world.350.org/ventura and ask friends to sign up on the webform to learn and to get involved.
AUGUST 6: The VC Board of Supervisors will hold one session on August 6 to review all input and give guidance to the planners for the Environmental Impact Review to be done this fall.  In other words, it's not over on August 6, but what we do until then could make a big difference, not just to build political will with the Supervisors, but with leaders in all the cities who are affected by the Supervisor's decisions.
WHERE IS THE CLIMATE ACTION PLAN? This Plan includes within it a Climate Action Plan. Policies and programs in every Element relate to climate change and are tagged for inclusion in "Appendix B" along with a Greenhouse Gas Emissions Inventory. The goals and targets for GHG Emissions are found in the Conservation and Open Space Element. Environmental Justice is also a requirement of the plan. We have compiled those policies and will be preparing comments on them to the Board. Healthy Communities policies are also spread among many of the Elements.  We need a volunteer to put all of those into a googledoc so we can see how that theme is covered and see what we might recommend.
GLOSSARIES ARE GREAT: For some of the above submissions we created a GLOSSARY at the end. They are amazing!  It is easier to agree on a policy when everyone is talking about the same thing! Much appreciation to all who read the drafts, made contributions, and signed on (dozens of co-signers can be seen on each of the seven cover letters).  Email vcclimatehub @gmail.com if you want to be added as an endorser of any or all.
350 VC CLIMATE HUB AGENDA FOR JUNE 20 MEETING: Monthly meeting June 20, 6:30-8:30 at the Unitarian-Universalist Church of Ventura: choose our top priority recommendations to communicate to the Board of Supervisors. How can we share with public officials and community leaders  the new possibilities we each imagine and that we are all working so hard on in our various paths of service?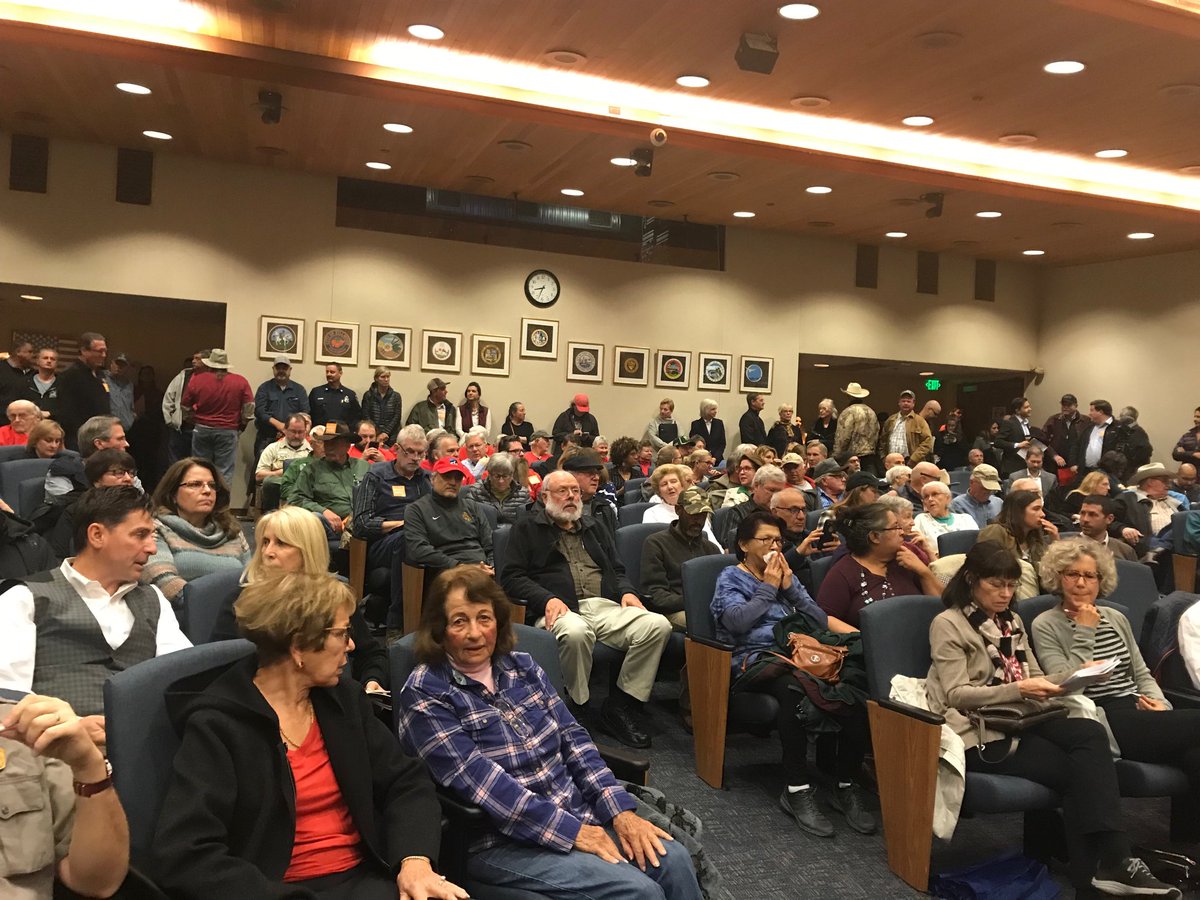 Were you in the Chamber January 31 of this year when we asked the Planning Commission to support the Wildlife Protection Corridor Plan?  August 6 with the Supervisors should draw similar excitement! Photo thanks to Kathleen  Wilson of VCStar.