Five Topics of Public Comments We Can Make to Achieve Local Renewable Energy Generation at the End of the Edison Grid in Ventura and South Santa Barbara County
The following series of comments are from The Clean Coalition telling the CA Public Utilities Commission exactly how to speed up resiliency with clean local energy generation that we deserve.
Goleta Load Pocket and a Resilience Feed-In Tariff (FIT)
Net Energy Metering–why a Feed-In Tariff accelerates development of resilience and Direct Relief in the Goleta Load Pocket
FIT vs Auctions for Acceleration of Renewable Energy Projects
Streamlined Interconnections for Ramping Up Rooftop and Parking Lot Solar and Community Microgrids
Reform Transmission Access Charges to Remove Unfair Market Distortion (the big hidden rip-off by SoCal Edison)

Part One: Goleta Load Pocket and a Resilience Feed-In Tariff (FIT)
The Clean Coalition believes that it is of the utmost importance to transition the electrical grid towards a sustainable and renewable future.  With the knowledge that as the number of wildfires in California has been increasing, so has the damage that they are causing, the first step that must be taken is to better outfit our critical facilities. These critical facilities should not have to split resources between actually fighting disasters or providing services and ensuring that there is enough energy to sustain rescue and recovery.  Most fire departments across the state only have enough diesel fuel for between two days and two weeks.  Considering that the firetrucks rely on diesel and the fuel is needed to pump water, there is enough demand, without also having to use diesel on backup generators.
I want to take a moment to focus on the situation in the Goleta Load Pocket, which is in Santa Barbara County.  The Goleta Load Pocket encompasses the cities of Goleta, Santa Barbara (including Montecito), and Carpinteria, an area of approximately 70 miles across the coast from Lake Casitas on one end, to Point Conception on the other end.  It is an area that is both highly transmission vulnerable and disaster-prone and is in need of 200 megawatts (MW) of solar and 400 megawatt-hours (MWh) of energy storage to achieve renewables-driven backup power in the case of a complete transmission outage.
The vast majority of solar siting opportunities in the GLP exist on rooftops, parking lots, and parking structures.  Small residential projects with the help of net energy metering are important steps to creating a more resilient grid, but larger scale projects on built environments will be key to generating the necessary renewable energy.   Because of a lack of unused space, a Feed-in Tariff (FIT) will be the most effective way to build renewable energy and storage within the confines of a large urban area like the Goleta Load Pocket.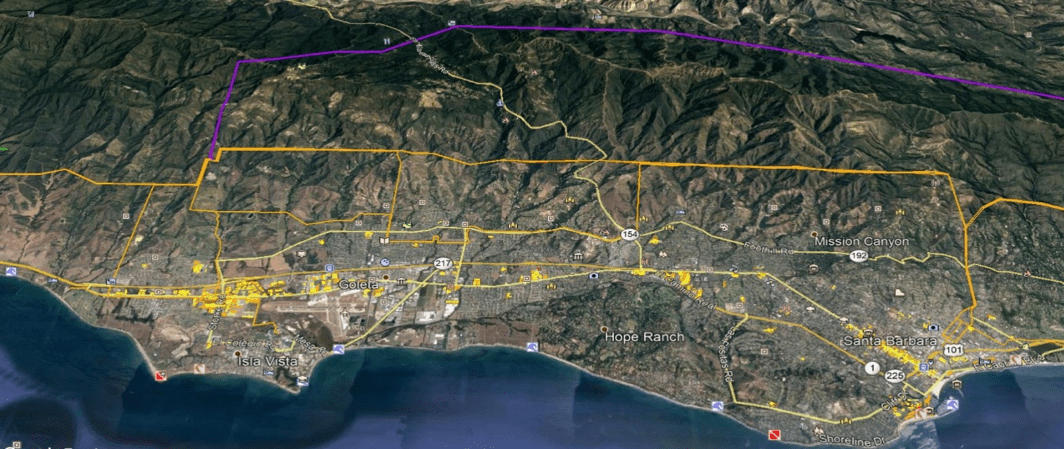 Orange and yellow areas represent optimal sites for solar and storage in the Goleta Load Pocket — only a portion of what can be developed locally.
Part 2: Net Energy Metering Does Not Work for the Rooftop and Parking Lot Solar Projects We Need (Why a FIT is a resilient solution)
On a large scale like the Goleta Load Pocket, a Feed-In Tariff is the most resilient solution to the issue of energy procurement.  A cost-effective FIT is a standardized, long-term, guaranteed contract that allows smaller local renewable energy projects to sell power to the local utility or other load-serving entity.  A FIT simplifies the process for all commercial properties to participate in energy generation,
The renewable energy generated under the FIT is sold to the utility at the FIT rate and then the utility sells it at the common retail price.  A FIT using Market Responsive Pricing allows prices to adjust based on market response, ensuring that energy contracts are always set at the best market price. Moreover, through adders, a FIT can be tailored to drive the deployment of projects that have certain characteristics, such as location, size, or ability to dispatch power on-call using energy storage.
In the Goleta Load Pocket, for example, the non-profit Direct Relief needed a microgrid to ensure that their Goleta facility never loses electricity. Direct Relief is one of the largest disaster recovery and supply non-profits in the world and its headquarters has far more rooftop and parking lot solar siting opportunity than its existing 320 kW solar project utilizes. Net Energy Metering (NEM) and more general behind-the-meter (BTM) constraints, limit Direct Relief to 320 kW of solar even though its built-environments can support almost four times that amount of solar.
A Resilience Feed-in-Tariff targeted at critical community facilities would allow for the entire Direct Relief site to be used for Wholesale Distributed Generation of renewable energy, much of which could be directly distributed back to the utility under the FIT rate.

Part 3: FIT vs Auctions
Auctions and similar competitive solicitations result in a highly inefficient market due to exorbitant bidding costs and extreme failure rates.
The average minimum cost of producing an auction bid is over $150,000, which overwhelms commercial-scale projects that generally have total turnkey installed costs of less than $500,000. They also have 97% failure rates, combined with exorbitant bidding costs, and are a recipe for bankruptcy. Competitive solicitations for project developers raise the costs of doing business for all developers — and result in higher prices for consumers.
While losing bids tie up prime siting options and flood interconnection queues.  Winning bids include unrealistically low offers based on speculative future pricing rather than firm current pricing, resulting in projects that may never be built.
Across California RPS solicitations, fewer than 1 in 10 project bids were actually developed, which resulted in high administrative costs for the program and exorbitant risk/cost for renewable energy project development.
On the other hand, the standardized contracts and prices of Feed-in-Tariffs can be approved in a single decision. Not only does the Feed-in-Tariff approach nearly eliminate speculative projects, but it also drives down renewable energy development costs.
Part 4: Streamline Interconnection
A FIT uses wholesale interconnection, so the Load Serving Entity and Independent System Operator (ISO) have visibility and control of power produced by DG systems.
Giving Wholesale Distributed Generation (WDG) the same advantageous streamlined treatment as net energy metered (NEM) projects would make it equally fast and predictable. Currently, WDG interconnections are significantly more risky, costly, time-consuming, and expensive.
In the ideal world, FIT projects will be built immediately and proven to deliver power within 12 to 18 months.  The largest part of this time will be spent connecting the property to the grid and getting through the interconnection queue.  With the current auction system, the project needs to apply for the interconnection queue with each developer, as opposed to only one time under the FIT system when the best option is chosen.  Moreover, streamlined interconnection will make it easier for aggregate generation of energy for contiguous properties or sites with split meters.   This includes an obligation for utilities to offer cost certainty for prices estimates relating to interconnection.
With the CPUC Rule 21, about the future of grid connection, it is essential to consider upgrading the grid interconnections; inverters need to be upgraded to be able to communicate over the internet and eventually to use advanced functions, like sending data.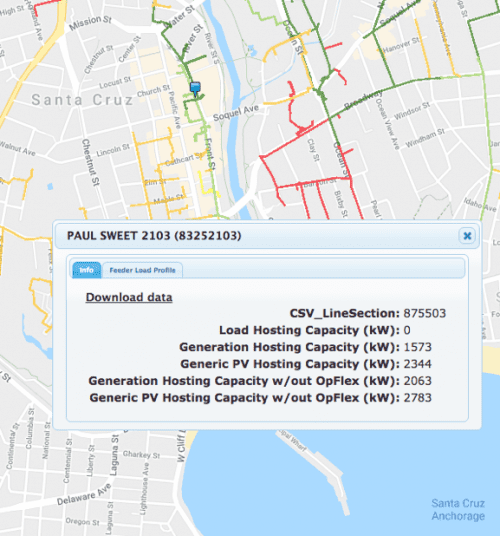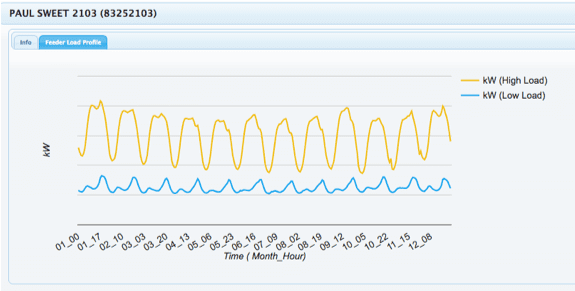 Example of new Interconnection Capacity Analysis (ICA) maps, showing color-coded existing capacity and detailed information for the specific identified point, as well as circuit load profiles, at the Paul Sweet substation in the Santa Cruz, CA area.
Part 5: Reform Transmission Access Charges
Transmission Access Charges (TAC) in California are assessed inconsistently and unfairly, creating a massive market distortion. In Permission To Operate (PTO) utility service territories, California ratepayers pay the same charge for "using" the transmission system whether or not the energy they use travels across that system. The TAC market distortion has these hidden costs:
Californians could pay up to $60 billion extra over the next 20 years
3 cents per kWh is being stolen from clean local energy projects — 50% of their total cost — making them look more expensive than they really are
Fewer dollars are available for the resilience that Community Microgrids bring our communities
A possible reform could be to Charge for electricity transmission based on actual use of the transmission grid. This method is already being used successfully by California's municipal utilities.